The CA students have only one month time to leave in their exams, and they may be in difficulties on how to revise such an important course in just one month. How to form a CA final preparation plan for last one month. Don't be worried that you are in the last place, you may keep work hard and should become a Chartered Accountant (CA). Now, there are many students who are still not completed their CA courses. However, you may join any one of the famous CA coaching classes in your place and completed your course.
In order to pass CA final exams, you must create a study plan. It is more helpful that you must study your course on four times before the exam begins.You may also do a lot of questions to get focus on the idea definitely. Although you are good to remember all in one revision which does not spoil your day. So, you need to study 12 hours daily. However, we believe that you have completed your CA course at least one time.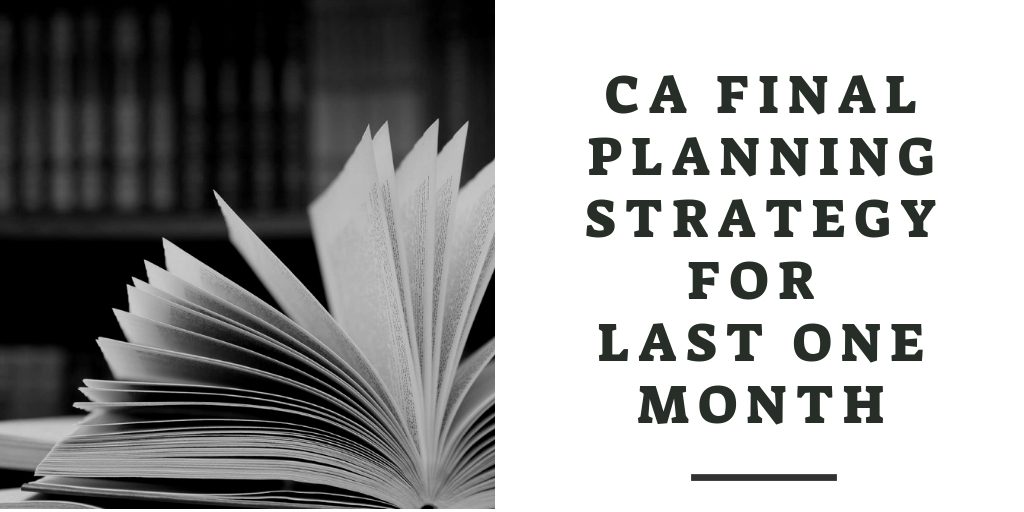 CA Final Planning Strategy for Last One Month
So, we are going to give you how to use such a short time and pass CA final in one month. It is more helpful for your CA exams.
Choose Single or Both Groups
The most essential section of CA final planning procedure is choosing for Single or Both groups. Many students know themselves in this problem. We will advise you compare your planning and think yourself that you have planned to provide both groups in this effort. If you may focus on both groups, then proceed, if no don't focus on both groups. You may concentrate only one group.
 Create Time Table  
Don't prove to commence your studies without a timetable or after 1 week you know what you have finished one subject till now. However, make a valid time table including the complete subjects going at least two days for the first exam planning. Manage your time between each subject on your range. Don't fix a timetable to these days or else assign hours to all topics in a day. It is likely the best CA final strategy since the last month. Some CA coaching academy are not provide, how to use your valuable times. So, you may prove yourself to make a time table for your CA exams.

Don't study theory for the Whole Day
Most of the students are don't go with the theory subjects for the whole day. Because it makes they to bored for their study. If you are scheduling to split 3 to 4 days for one subject, it is not a good idea while comparing to others. So, you should go with 2 to 3 subjects per say and put a time to execute your goal. The thought behind this, studying theory for a whole day can be piece of tedious. Therefore, assign time to both theory as well as practical subject in a day regularly.
Set At least One Subject for Exception
The CA students are need to score minimum 40% of marks in their exams. It may be DT is very massive or ISCA, that is quite technical or IDT contains GST or AMA wants your concepts to be very sharp. So, you have to plan one subject that covers your total marks.
For Last Month Strategy
CA exams are more important for all students who are preparing on CA final exams. We give some strategies thus help for your exams. Most of the students are going CA coaching classes for their final exams and some students are preparing in their homes. So we give strategies for both the students to score in their exams.
Create Short Notes on Your Exam
The last month of CA Final Procedure must begin by creating fast revision notes. It's you choice to choose the summary book or your own handwritten notes on your exam day. It is advisable that planning summary notes is wasting your time, you may focus with summary modules for some teachers. Some students are having CA coaching institutes notes for their studying. However, if any material you are deciding for the exam day you must read it before your exam. Please don't go with a new material for that one day planning.
Focus on RTP and MTP
The CA students must focus on RTP and MTP, before they complete their subject. It is also your revision, so consider it is also in your studies. So, don't wait to finish all the subjects and then get started on RTP and MTP. It is easy to cover one chapter at a time and maximum two questions from each chapter. At last, you have an option to go with MTP. It is advisable to prepare CA Final mock test papers and CA Final previous year papers makes you to improve in exams.
Methods for ISCA
Many students evaluate ISCA as hard to pass in their CA final exams. The logic following some students having problems in knowing the technical language and also remember such details in their exam. Therefore, you are proposed to use methods to know this subject. You can look it in either Google or refer teacher notes who know this subject with methods.
Must Apply AS, IND AS, and SA
The very easy scoring part is Auditing and Accounting. SA and AS IND AS are easy to read and less time in relation to other parts. Further this helps scoring, however never use the wrong number of SA and AS, IND AS. If it's hard to know, begin with the name only.
Cover Suitable Part First
We do not recommend our students to go for particular study, and we completed in a short time period. It is best to cover all the important topics first that has been shared with your teacher. So, focus on those important topics first because your teacher has more experience in this field. He/She knows the ICAI question pattern so concentrate that topics.
Watch the Revision Videos
If you think that wasting time on the whole concepts, you can see the revisionary videos which are available on YouTube. It helps you in revising the ideas and now, you can commence with the questions.
Concentrate on Amendments
ICAI needs to be updated with the laws and conditions, so don't miss the amendments. So, first focus on the amendments. Particularly when we speak about subjects such as IDT, DT and Law.
Writing Skills
Presentation is a vital portion of CA Exams and it also an important part to score marks. So, study the ICAI material or SM, PM and know its writing method particularly. So, start practicing the questions.
Organize your Time
Normally, offering the total paper is a dream of more students. Don't think it as a jape, ICAI papers are very long and required better speed to try the entire paper. So use this procedure now. If you writing Mock Test Papers, prove yourself at least 10 minutes early then the real examination. It helps to attempt the entire paper.
PR Academy is one of the leading CA coaching institute located in Coimbatore, offering CA, CS, CMA, ACCA courses for all students. So join this academy and become a chartered accountant (CA).